User-defined alerts FAQ
Why user-defined alerts?
User-defined alerts are totally different then trade signals from AI server. This feature allows you to setup alerts based on your own rules, DataFeed server will send you push notifications when condition met. You no longer have to monitor market constantly.
How to setup user-defined alerts
Press "Add" button in Notification screen to add new one Edit alert by
Choose symbol
Choose timeframe
Choose indicator (or price/ volume)
Choose action. Depending on indicator, available actions can be "cross" or "reversal"
In the case of "cross" action, type a number, then choose the number or one of available indicators on the dropdown list
Delete an alert by swiping (left or right) on it. Note: some alerts only available to premium users. Your alerts will be activated after you close Notification screen, please make sure that your network connection is functional.
New: Price touchs Trend alert
Asset price has a habit to bounce back quite a bit after touching trend line. As you see in this picture, it's possible to make some quick money by trading this habit. For example, we just set "Price cross Trend" alert for SPX500 H2.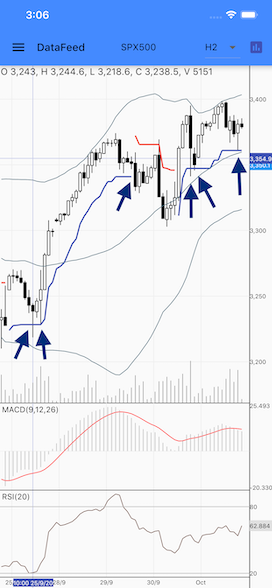 In this short chart, we can see that alert will be triggered 6 times, and we can make profit 5 of 6 times. Please note that from version 1.0.49 even though if we set alert for H2 chart, Price actions alerts will be triggered in real time, not waiting for the bar (H2 in this case) to be completed, so we will get push notification a minute later after price touch H2 trend line.
New: Volume surge alert
From version 1.0.49 we introduce Volume alerts, which can be useful for traders to catch important market events.
"Volume cross Number" : alert triggered if bar volume exceed certain number.
"Volume cross MA20x3": alert triggered if bar volume exceed triple of most recent 20 bars volume average.
Please note that server will ignore few bars at 9:15, 14:30 and 14:45 for VN stocks/ future/ indices. Those bars always have higher then average volumes due to trading rule.